Winding Road works with a number of talented Missouri crafters and artisans to fill our showroom floor, many local to the California area.  Each of our crafters provide a unique style to the store, offering everything from hand-crafted barnwood furniture and accents, finished and painted new wood pieces, refinished furniture, age-distressed vintage fare, hand-thrown pottery, repurposed home accents, all-natural soaps and sundries, soy candles and melts, and lovely sewn pillows.These items and many more can be viewed and purchased in our store front. 
---
DARYL LIBBERT
Daryl, Winding Road's official "master of barnwood," lives with his wife, Kristi, in rural Centertown, Missouri. Working out of the shop next to his house, Daryl creates a variety of masterful works from reclaimed wood and other materials. His 35+ years of construction and finish carpenter skills are evident in the pieces he builds. Now retired, Daryl has made quite a hobby out of crafting for the store. His passion lies in building large furniture items such as harvest table dining sets. However, Daryl leaves nothing to waste when it comes to barnwood and is very imaginative in his creations of tabletop trays, display ladders, crates, and benches. Daryl's skill and amazing hand for woodworking has put his products at high demand both on the showroom floor, as he sells exclusively with Winding Road Gifts + Interiors.
---
ANN GROTJAN POTTERY
Ann Grotjan lives and creates on her farm here in California, MO. She uses a variety of techniques in her designs including wheel thrown, carving, imprinting, hand sculpting, altering, and sprigging.  Some of Ann's pottery is made with a specific function in mind while others are purely decorative or sculptural. Either way, she tries to incorporate the beauty of nature in her work so others can appreciate that beauty as they use her pieces. All of Ann's pieces are food safe, dishwasher safe, microwave safe, and lead free so they may be used as well as admired.
---
ANDII IRWIN
Andii Irwin creates wonderful household and immune/health support pure essential oil products for Winding Road. Andii was introduced to essential oils when she started making life-changing choices. In the beginning, she used essential oils to create a positive emotional state; rediscovering peace, balance, and joy during a difficult season in her life. Now, her family uses them in all aspects of their life, including digestive support and creating a relaxing and calming atmosphere for sleep. As Andii began to consistently use essential oils and oil-infused products in her home, she felt an emotional connection and fascination with natural products and the variety of benefits they offer. Wanting to share them with others, Andii has created an uplifting line of products to be used for home, health, and well-being, with each season bringing new products!
---
AMY MEYER

Amy draws inspiration from scripture and family by providing us with beautiful and original pieces you won't be able to find anywhere else!  Her signs and wall hangings are individually hand-painted, hand-lettered, and framed. Amy also hand-draws greeting cards for any occasion, recently adding her original watercolor paintings to her greeting card line.
Amy is one of our fabulous sales associates here at Winding Road, and she is always happy to assist with any questions you have about her art and others.
---
HOPEWOOD RUSTIKS
Marci Porter, a California, Missouri native, is the owner and creator of Hopewood Rustiks. Marci's talent is multifaceted, giving her the ability to design beautiful sign art. She prepares her designs on a computer, transfers the outline to her choice of medium, and hand paints the rest. We never quite know what new pieces will be coming through our doors when Marci walks in. We love Marci's talent and eye for design and know you will, too!
---
GIDDY-UP SOY CANDLES
Brenda Rehagen is the owner of Giddy-Up Soy Candles.  She creates her scents and pours all of her wax products in the basement of her home located in Westphalia, Missouri. In June 2007, she bought Giddy-Up Girls Inc. and changed the name to Giddy-Up Soy Candles, LLC. We work with Brenda to choose specific scents each season and feature 10 scents on hand in the store, carrying labels we design to give clean, farmhouse look. We LOVE these 100% soy wax candles made from Missouri-grown soy!
---
EARL ENGELBRECHT
Earl, a resident of Lee's Summit, MO, took up wood carving after retirement. He uses a variety of beautiful woods to create bowls, cutting boards, candle holders, containers, and more. Earl's pieces are intimately and uniquely crafted, each with it's own variation in wood tone and grain.
---
KNOTS TO KNOBS RESTORATION
Emily Donaldson turned her hobby into a side business in July of 2013 and dubbed it Knots to Knobs Restoration.  Emily and her husband, Todd, live in Jefferson City, Missouri and team up often to create fun home decor items and refinished furniture pieces.  Todd handles the woodworking and typically masterminds the building or rebuilding of their projects, while Emily using her creativity to bring the pieces to life.
Emily likes to describe her work as "restored and repurposed furniture designed with a creative eye, hard work, and an ounce or two of O.C.D."  With the Pinterest boom,  she's been inspired to expand beyond furniture and add crafts and artwork to her "resume".
We are very happy to give Emily an avenue to showcase and sell her creations!  Her pieces are always a hit and priced very affordably to fit just about any budget!
---
SILVEY'S SOAP
Kim Silvey is the owner of Silvey's Soap, a small business based in California, Missouri. Like a lot of soap makers, Kim started soap making as a hobby and made soap for family and friends. All her products are made in small batches, by hand using the cold process method, with the purpose of bringing fewer chemicals and synthetic products into your life as well as her own family's lives. Kim restocks us with a variety of new scents as the seasons change.
---
GAYLORD SOAP CO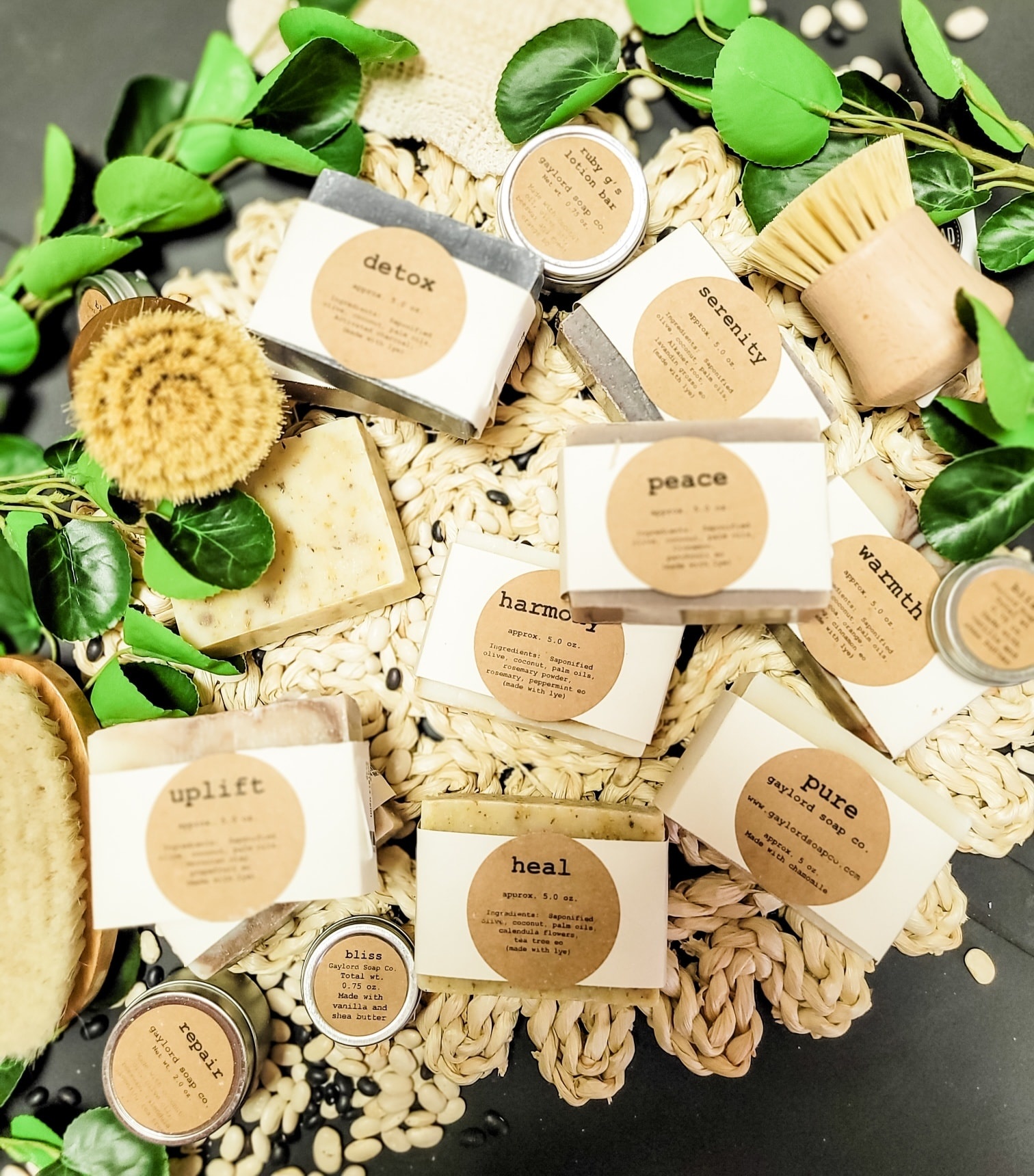 Chad and Nikki Gaylord began making soap about three years ago as just something fun to do on a weekend.  That one 4-hour soap-making class turned into a passion and so it began.  They began experimenting with soap recipes and finally came up with a recipe that they liked.  They didn't want to just copy someone else's recipe – they wanted to be original!  Gaylord Soap Co. didn't actually become a full-fledged business until 2012.  They love making all-natural soap and love the fact that they are able to offer people a choice that doesn't contain all the chemicals that commercial soaps do.  As  they have begun expanding their product line, they continue to strive to make all-natural, quality products that enhance and make our customers lives better.
---
RUSTY NEEDLE PRIMITIVES
So many great creations come from Jennifer Hale of Rusty Needle Primitives! Living in Warrenton, Missouri, with her husband and two sons, Jennifer has a wonderful imagination for all things stuffed.  She designs many of her own patterns and builds upon them from season to season.  Jennifer definitely has a way with her needle and thread, sewing together a seemly endless variety of everyday and seasonal items, including feedsack pigs, chickens, and pillows, tea-stained and hand-embroidered pillows, witch boots, scarecrows, pumpkins, elf shoes, families of snowmen, "candy" hearts, wall hangings, table toppers and so much more!
---
JOHN SCHAFFNER
Jon Schaffner joins us from Jefferson City, MO. He has been married to his wife, Gale, for 43 years – they sure make a cute couple! Jon's interest for woodwork started when he was about 12 years old, while helping/watching his grandfather. He has been involved in residential construction since 1975, with a true love for finish work. Jon decided to start building furniture after he saw a barnwood table his brother purchased from Winding Road. Jon says, "I thought to myself, I think I can do that!" So, he went to his wife's family farm and gathered up enough barn wood to make a table and pair of benches.
Since then, he has made numerous pieces for family and friends. As of 2018, Jon has crafted a variety of beautiful custom furniture pieces for clients. We are so happy to have Jon building for Winding Road. He allows us many options for custom designs, letting our customers purchase exactly the piece they want to fit their space and style!
---
I'M THE BOMB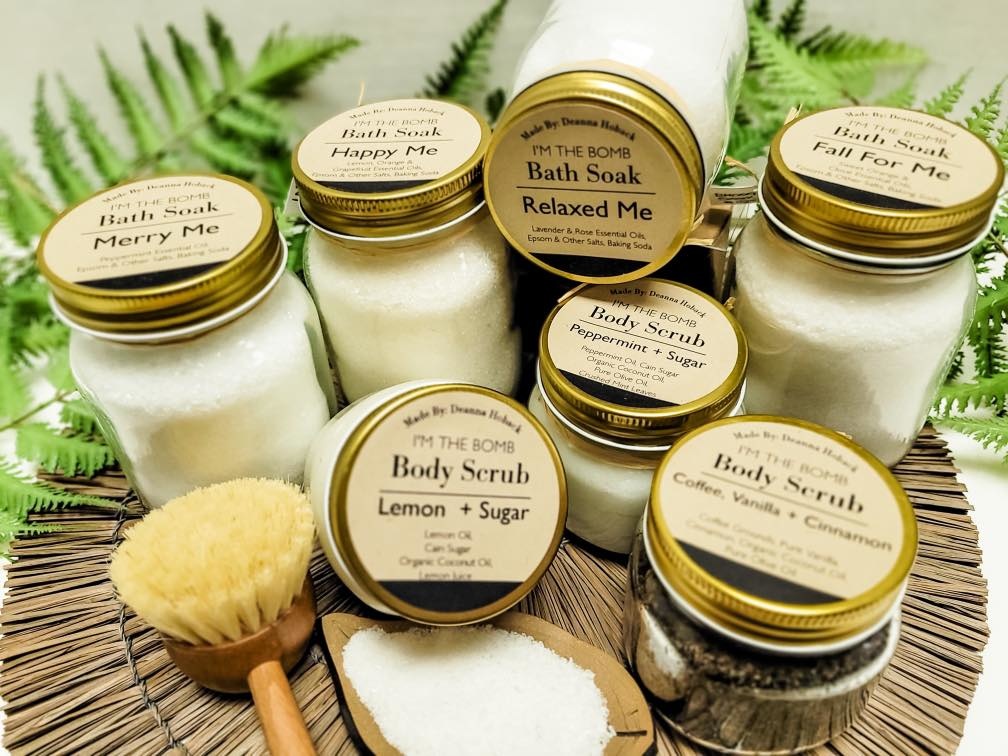 I'M THE BOMB bath products are locally made by Deanna Hoback in California, Missouri. Deanna and her family are lifelong residents of California. She has been married to her husband Jerry for 30 years and they have two daughters, Tabatha Silvey and Rachel Hoback.
Deanna started making I'M THE BOMB bath products in 2020 for family and friends and later decided to add a retail business aspect to her hobby. All I'M THE BOMB bath products are made from natural, quality ingredients and use only minimal coloring. These bath bombs, soaks, & scrubs will give you a relaxing and rejuvenating bath experience.
Jeff Nolting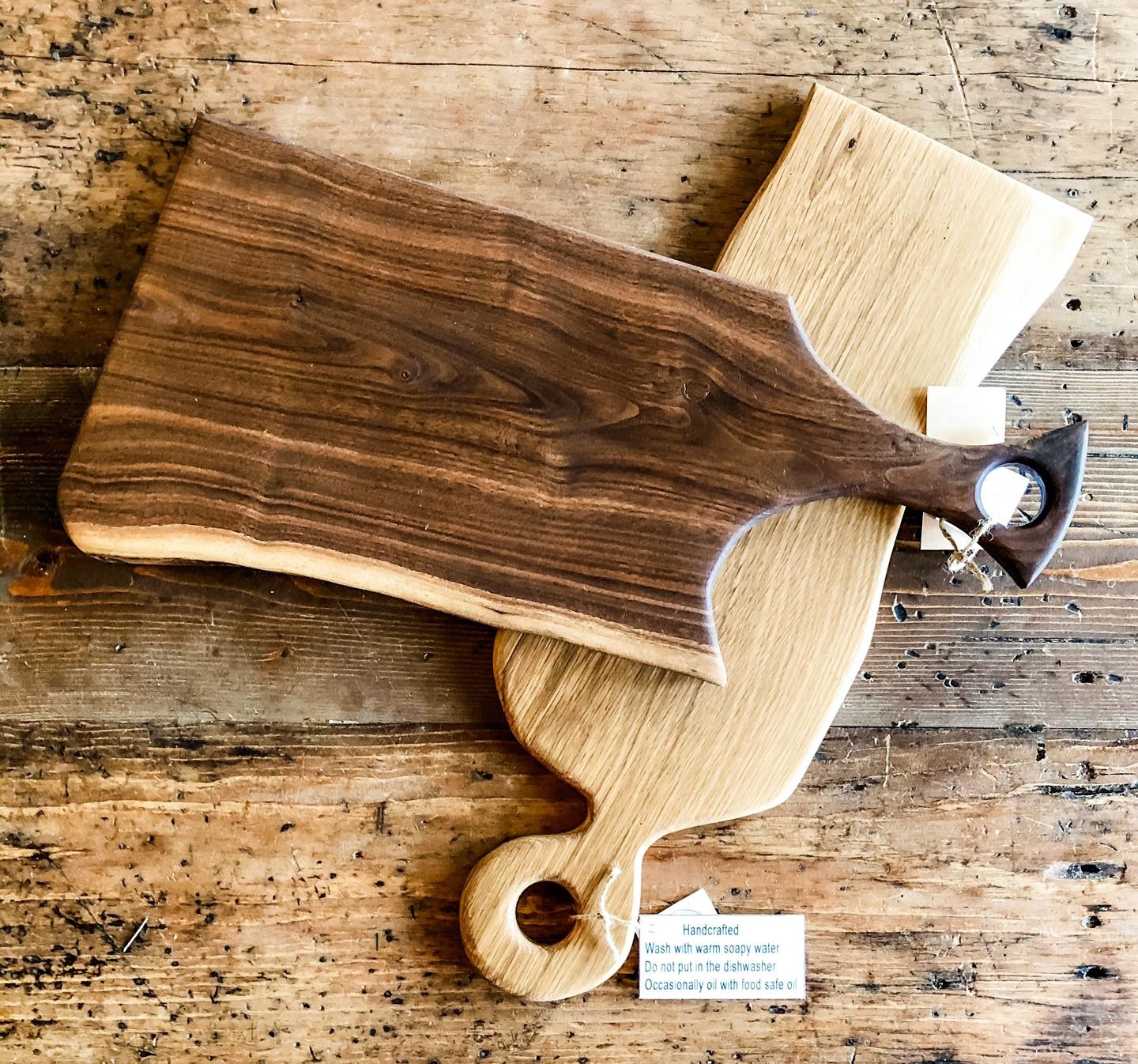 Jeff is the newest crafter to Winding Road. He is a talented woodworker, always looking for new ideas and designs to incorporate into if folio of products. We carry a lovely collection of his cutting boards and charcuterie boards, at this time. We are excited to see what new additions he brings in as time moves along!
---